Bursaries
Bursaries
The Archbishop Makarios Foundation disburses bursaries on an annual basis. In order to qualify for an award, a student is selected by the Ministry of Education and the amount is determined by the Foundation.
The Ministry of Education receives names of students presented from state Primary and Secondary Schools during the first term of the school year.
A selection panel from the Ministry of Education presents the Chairman of the Foundation with a list of nominated students from the list received. The selected students are presented to the committee members for assessment and approval.
Over 3600 students have received bursaries since the fund was created. On average, over 200 awards have been made annually in recent years.
When they receive their awards, the students are encouraged to give of their best throughout their studies, that they will play their role and mission in life as responsible and mature citizens, thus contributing towards the welfare and development of the country and the nation.
Bursary recipients
Many students are fortunate to receive help in their studies through the Foundation and make a difference in their education and future careers. Here is a selection of stories of some students that are grateful for the support they received recently.
---
Bursaries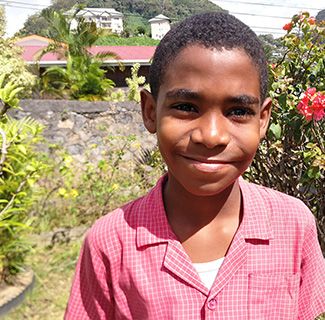 Raphael Emmanuel
11 years, Primary 6 student
At school I like studying maths as well as doing art classes. My strongest subject is English, and I like to read and also to write in my notebook.
When I grow up, I would like to work on a Coast Guard boat, to become an officer. It looks like a very interesting job. I know I have to be good at my studies and serious at school, and I am. I do my lessons well. For maths, I got a certificate for coming first in my class. Education is important because it is the key for you to be able to do something tomorrow, to get a job. It means I can become a good worker and not just sit around without working.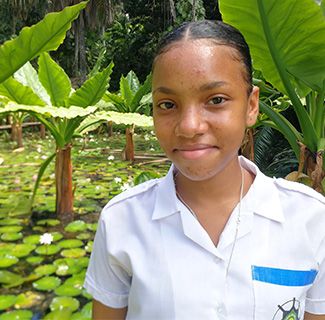 Neesha Joseph
13 years, Secondary 2 student
I enjoy going to school, doing my lessons, reading books. French is my favourite subject, it's the only subject where I really get involved and participate a lot, and my grandmother was a French teacher.
My dream for my future is to work in the tourism industry in a hotel. We are going to visit some hotels with the school, I am looking forward to it. I like being at school and have a lot of friends. My education is important to me, so I can get a job in the future. I am also in the Young Citizens Club where we get to learn lots of new skills, to recycle and other things. I love music and dancing and follow the latest music. But I am serious in my studies and do all my homework and do it all on my own.
Testimonial
Linda Rosalie
Linda Rosalie is one of Seychelles' best-known, most experienced and respected journalists, TV news anchors and editors, who forged her career at the Seychelles Broadcasting Corporation (previously known as Radio Television Seychelles).
She was born and grew up on La Digue Island, and following her attendance of the National Youth Service, at the age of 17, she started her O level and A Level Studies at the School of Humanities and Sciences at the Seychelles Polytechnic in 1987 on Mahe Island.
During this period, she needed accommodation and found a room at the Saint Elisabeth's Convent, where some of the female students from Praslin or La Digue stayed. She studied English, French, Geography, History and Economics at O Level and Geography, English and French at A Level. Linda stayed at the convent for four years. The head of school at that time, Mrs. Marguerite Mancienne, suggested to Linda to apply for the Makarios Fund bursary to help pay for her living costs.
Linda was awarded a bursary of 700 Seychelles Rupees, which was a lot in those years, and she used it entirely for her accommodation during her study period. Linda remembers attending gatherings for all the recipients of the Makarios Fund together from time to time. She is grateful to Mrs. Mancienne for encouraging her and the Makarios Fund for helping her greatly at the beginning of her life as it gave a big push in her life.
Following her A Levels, she completed a certificate in basic journalism at the School of Media Studies in 1990. During the course, she had work experience in print, radio and television, and then she decided to enter the TV Newsroom in 1991 at RTS, where she became a journalist.
During her 30-year career, she completed a diploma course in journalism at the Jawaharlal Nehru University in New Delhi in the Indian Institute of Mass Communications - the most prestigious in India. She completed a certificate course for new media in the Netherlands and many other shorter courses. She was promoted to the post of Chief Editor in 2012 and then furthermore became the Head of News, Current Affairs and Sports and stayed in this post until December 2021. She says she will always be a journalist at heart and will remain active in various projects.